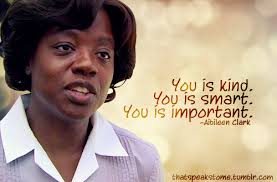 The Help by Kathryn Stockett has many strong characters. It is a novel that entertains, educates and sympathizes with the plight of colored people in the 1960s. Out of all the characters in the novel, perhaps,the one who stands out the most is Aibileen Clark.
Aibileen Clark is a powerful character in Kathryn Stockett's The Help. She has a heart of gold. Aibileen is a black woman who takes care of white folk's babies. She also cleans and cooks in the houses she works in. She has been doing this since she was a teenager. She has raised 17 white children and her last and most precious "white baby" is Mae Mobley Leefolt. Unfortunately for Aibileen, her son Treelore, died in a racial fight and she is now living for the children she cares for.
Don't waste your time!
Order your assignment!
order now
In the novel, Aibileen is the first person who agrees to the book Skeeter wants to write. She agrees to help Skeeter write the book and takes on the pseudonym Sarah Ross. She takes this name because it is her school teacher who told her that she is the smartest child in the class and the one who encouraged her to write.
Aibileen has so much to lose by agreeing to write Help with Skeeter. Yet, her agreement to help Skeeter is a testament to her bravery. Aibileen has a connection with Skeeter because they both like to write. They are also very different. Skeeter is educated and Aibileen is not. She barely made it out of high school. However, although Skeeter is educated, Aibileen has the experience in writing as she has been doing this for some time. However, the differences between Skeeter and Aibileen disappear once they begin writing the novel. They work together despite their differences in a world which always wants to point out the differences between blacks and whites. At the end of the novel, Aibileen gets to do what she loves to do most in the world. This is to write. She starts writing a column, originally handled by Skeeter, in a white magazine and gets paid for doing so. This is a great thing, for a black woman from Mississippi in the 1960s.
Aibileen's heart of gold is apparent in her attachment to Mae Mobley. Despite the differences in their skin tones, Aibileen adores Mae Mobley. The love she has for this child goes beyond what Mae Mobely's mother feels for her. Mae Mobley is not a pretty child. She is fat, has a bald spot and is not cute. However, outer appearances do not matter to Aibileen. All she cares is that "her baby" is kind and intelligent and fair to others. Throughout the novel she teaches Mae Mobley about how special she is, how good she is and how kind she is. She also teaches Mae Mobley about racial equality and civil rights. However, this is a sensitive subject. She knows if she is found out, she will lose her job and maybe her life. But, she believes that evil is taught to people, that they are not born with it. This is why she tries to break the pattern by teaching Mae Mobley about racial equality.
All that Aibileen does and what she achieves through it makes her a good person and a person who deserves everything good that life brings her. Every person who has read this novel will understand why Aibileen is the strongest character in the novel.
How to cite this assignment
Character Analysis of Aibileen Clark in The Help Assignment. (2018, Sep 04). Retrieved January 28, 2023, from https://anyassignment.com/literature/character-analysis-of-aibileen-clark-in-the-help-89472/